Buying Lakefront? What to look for.
Lakefront homes fit a particular lifestyle choice that is incredibly exciting for many people. However, when you are pursuing a property you really want it is more important than ever to think rationally. You can have a lakefront lifestyle, but you need to be aware of all the considerations that go into purchasing a lakefront property. Buying a lakefront home is very different on a number of levels compared to your traditional purchase. It is important to understand these differences before making the leap into lakefront living.
All things being equal homes located on a lake are typically more valuable than homes that aren't. While your initial expense will be greater, the potential for greater appreciation is common with a lakefront home. When the real estate market drops lakefront homes also tend to keep more of their value. What you should know however when buying a lakefront property is far more involved than your typical home.
Current State of The Home
Living on a lake can be a lot of fun, but it is not without its drawbacks. The moisture in the air, the weather patterns created by the lake and the rise and fall of the water level can all lead to degradation of a property. If it is not kept in good repair with regular maintenance by professionals, the close proximity to the lake can lead to property damage. Wood, metal and stone can all be affected by the unique conditions created by the lake.
Like any other property you are going to want to go through it with a fine tooth comb. Make sure you hire a qualified home inspector who will take the time to go through the property from top to bottom. Specifically look out for the top home inspection problems especially bug infestation and water issues that can be found more readily near lakes.
Home Orientation
When living on a lake you one of things you will want to take into consideration is the orientation to the sun and how it sets. Does the home get morning or afternoon sun? If you are getting afternoon sun does the deck have any sun protection? How do the winds coming off the lake effect both your enjoyment of the property and the heating costs?
Get Specific Information About The Lake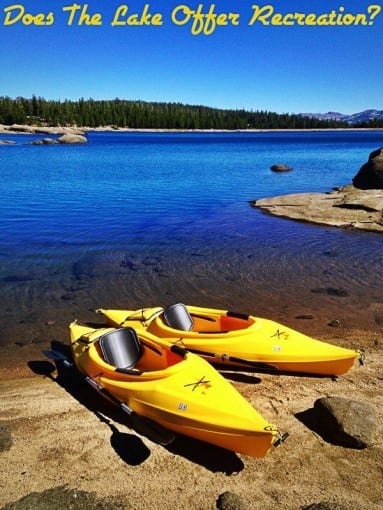 Lakes can vary considerably, meaning one lake might be perfect for you while another is completely undesirable. You do not want to discover that the lake you bought a home on is nothing like what you want. Find out as much information as you can about the lake. Here are some excellent questions to ask when considering buying a lakefront home:
Is the bottom rocky, sandy or muddy?
How busy is the lake during each season?
What recreational opportunities are available on the lake? Kayaking, boating, fishing, swimming, scuba diving, snorkeling, water skiing, waterfowl hunting? Some lakes are better suited than others for specific types of activities.
Are jet ski's allowed when the lake freezes?
What is mosquito season like?
Is there any wildlife on the lake such as ducks or geese that could become a nuisance?
Is the shoreline sandy, rocky or muddy? How easy is it to access the shoreline from your home?
Does the lake maintain it's water level or go up and down with the seasons?
Is the lake stocked with fish?
Does duckweed ever become a problem?
Does the lake flood? How close is your home to the flood line?
Are you required to carry flood insurance?
If you boat, how easy is it to get your boat in and out of the lake? Are you allowed to have a dock right off of your house, or is it OK to travel around the lake for an access point?
Are there any specific things that are not allowed on the lake?
Are there any local ordinances about noise or having parties in or around the lake?
These are all questions that may or may not pertain to the lake you are considering buying on but are great things to consider in the back of your mind to ask.
Is There a Lake Association?
Find out if there is a homeowner's association or other organization that controls the lake area where you plan to buy – It is always a good idea to find out the nature of any organization you will be required to join to enjoy your property and the lake it sits on. These kinds of organizations can vary a great deal in how they handle issues.
Make sure you are able to do what you want to do and able to enjoy your property as you like before you buy into an area. The last thing you want as a buyer is to find out there are things you were counting on being able to do and are not allowed.
Having a Lake association is generally a good thing as they are formed to protect the lake's future and resolve any issues that potentially could threaten the lake's health. The members of a lake association meet when it is necessary to discuss lake issues and determine courses of action to remedy any problems. Often times members attend town meetings to be a voice for the lake, apply for grants to protect or improve the lake, as wells as monitor the lake for any invasive species. Most of the time having a lake association is of great benefit to those living on the lake.
Decide if This is a Vacation Home or a Primary Residence
If you are purchasing this home as a vacation property you may have different needs from the property than if it is a primary residence. The weather patterns and seasonal temperatures may not matter as much for a vacation home, because you will only be visiting during the ideal seasons. If you want to live here year-round though, you will need to pay more careful attention to what the seasons will bring – especially if you are an older buyer that may struggle with more severe weather.
Are There Modern Conveniences Nearby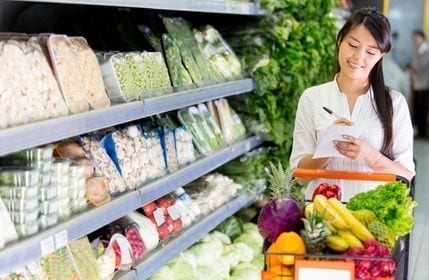 46Another thing to consider if you are planning to live here year-round is access to important things like medical care, grocery stores and dining options. Getting out of town into the middle of nowhere may be great for a few weeks at a time, but not everyone enjoys such isolation on a year-round basis. How easy is it to get to major routes? Will getting in and around the area be difficult during times of inclement weather?
Size is another factor that may vary based on your planned usage for the home. If you want to live in the home and have company during the high season you will probably want a larger home with extra bedrooms for guests. If you just want to bring the spouse and kids out during the summer a smaller home might be fine.
Make Sure The Home is Designed For Winter Use
Some lakeside homes are setup to be used during the warmer months of the year and to be left empty when winter comes around. If you want to use the home during the cold weather you will want it to have proper insulation and heating options so you can remain comfortable. Make sure the house is equipped for winter living if this is something you need.
Expansion Possibilities
On many lakes there is a wide variety of housing. In some lakefront locations the housing has started out as small vacation style cottages only to be expanded upon and turned into more permanent residences. Often times local zoning can vary quite a bit on a lake – sometimes the size of the lots are a lot smaller than lot sizes in non water front location. It is important to find out what you can and can't do before purchasing. You may have grand visions of putting on a second story or adding a large addition and find out it's just not possible. Better to find out before than after you have made your purchase.
Serviced by a Septic System or Public Sewer
Whether or not there is town sewer available is an important consideration to many home buyers. Septic systems can be very costly to replace especially when they are located so close to a lake. Many communities will at some point in the future install a sewer system do to the sensitive nature of the quality of the lake. This is an added expense you should consider planning for if public sewer is not currently available.
Legal, Conservation and Zoning Restrictions
When living on a lake there may be certain regulations that are not as strict elsewhere. Lakes are considered wetlands so they are afforded different protection under the Wetlands protection act. The local conservation board is more than likely going to want to know anything you do to the property that is within 100 feet of the lake. The vast majority of cities and towns also have strict "no disturb" rules that apply to areas directly bordering the lake  – most of the time 25 feet. In most locales this restricts building, clearing, planting, etc. The purpose is to maintain a natural buffer for the lake but could also impact any future plans you may have. Make sure you keep this in mind.
Do your own homework when you see property advertised as having "lake access" or "right of way to lake". While these advertisements certainly could be accurate on occasion there have been mistakes made which were complete misrepresentations. When these kind of representations are made it is always smart to consult an attorney who can do a title search to check the accuracy.
Make Sure The View is Adequate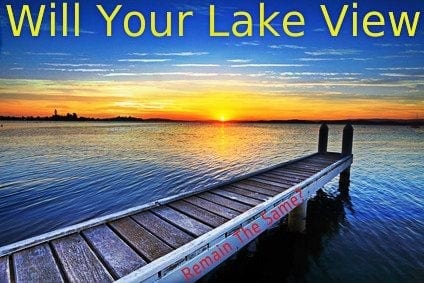 One of the best parts of living on the lake is looking out over the water every morning. Unfortunately not every home labeled as a lake home offers this kind of view. Depending on your needs or your budget, the view might not be a priority. However, if you want to get the most out of lakefront living you should make certain that the view you have from your home fits your desires.
You might also want to find out if the lake has been completely developed as well. The view you have at the time of your purchase could change if there are still building lots either surrounding the property or on the other side of the lake. At a moments notice you could be looking at something completely different than you planned on. I personally know of a few lakefront owners who have had views impaired or changed by others residing on the lake.
Determine How Easy it is to Get to The Lake
Some lakefront homes are technically on the lake, but the lots are so steep that getting down to the water can be a real challenge. If you plan on growing old with the home then you will want a flatter lot. As you get older it will become harder and harder to climb up and down a steep lot to get to the water. This is one of the considerations for buying on a lake that many people don't think about.
Decide on How Much Privacy You Want
The closer you are to the water the easier it is for boaters and lake users to see your home. This may or may not be a problem for you but it is worth thinking about when looking at different properties. Lots with more distance between the home and the water – distance that still offers a clear line of sight to the water – are usually more expensive than those that are right on the water. The extra cost may be worth it though if you want to sit out on your front porch in your underwear and still be able to watch the sunset.
Hire a Realtor You Can Trust
Whether buying or selling a lake front home you want to work with a Realtor that understands the complexities of selling a home on a lake. Avoid picking a real estate agent randomly when you want to buy a lakefront home. Interview agents to find out how well they do at finding lakefront homes that satisfy their clients.
You want a person on your side that can find you a good home within your budget – a home you can enjoy for decades. Lakefront homes are naturally more challenging to find at a good price due to higher demand. With the right agent, the search becomes easier and you are more likely to get a good deal on a house. This is more than worth the commission an agent will charge for his or her help.
When buying a home understand that lakefront property will carry a certain premium over non-lakefront property. How much of a premium is something a qualified real estate agent should be able to help you with. There are a number of factors that come into play including the town, the type and size of lake, the size and characteristics of the lot, neighboring properties, water quality, privacy, proximity to amenities, and highway access.
When selling a lake front home understand that marketing the property well becomes vital. Choose an agent that is easily found on the internet, does an exceptional job with photography and real estate descriptions. The Realtor you select should have excellent marketing skills that can differentiate between what buyers are looking for in a lakefront property vs a more traditional property.
If you are thinking about buying or selling a waterfront home I would welcome the opportunity to help you accomplish your goals.
Other Helpful Lake Home Buying Resources
__________________________________________________________________________________________________________________
About the author: The above Real Estate information on considerations for buying a lake home was provided by Bill Gassett, a Nationally recognized leader in his field.